In yoshoku (western food) restaurants in Japan, there's a popular beef and vegetable stew-like dish called Hayashi Rice that's served over rice.  While going on a deep-dive on Japanese websites, I randomly came across Hayashi Rice's origin, nestled in my favorite Tokyo neighborhood of Nihonbashi.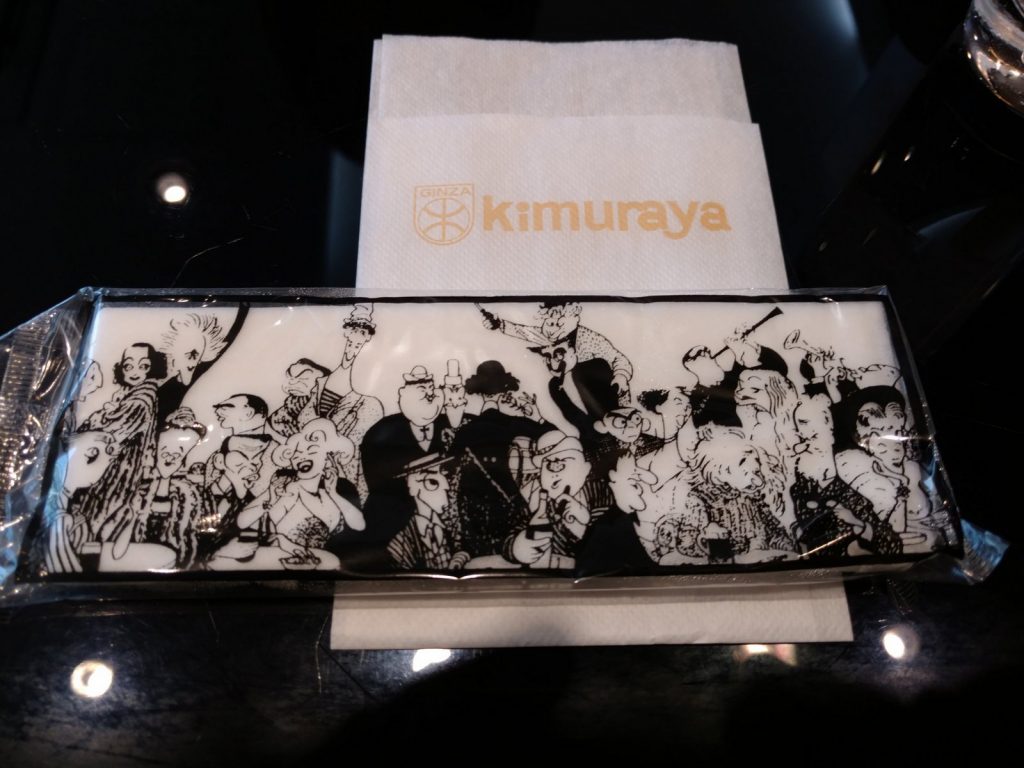 Hayashi Rice, aka Hushed Beef, aka Hashed Beef
My first taste of Hayashi Rice came almost a decade and a half ago at Ginza Kimuraya bakery's Honolulu branch in Kahala.  On the menu, it was called 'Hushed Beef' and it was only ordered because it sounded like a cow was being shooshed.  What came out looked like a dark-brown Japanese curry served over rice.  The flavor was far different, however, a deep savory beef flavor, like a demi-glace with chunks of meat and vegetables. This thick saucy stew covered a bed of white rice like a gravy.  Serious comfort food to enjoy after a particularly long day.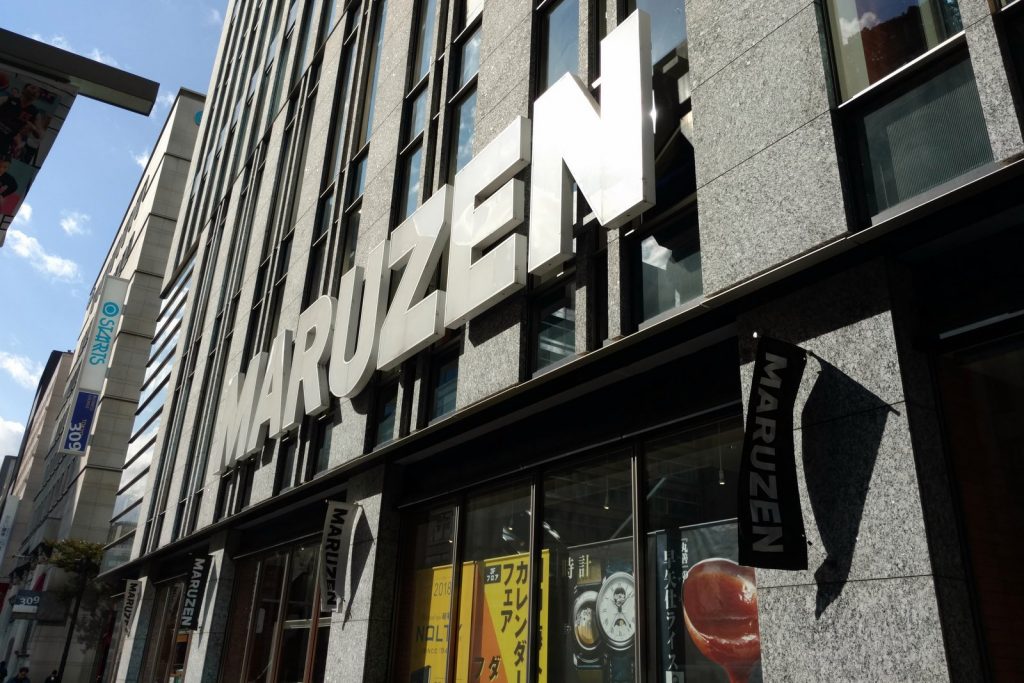 Hayashi Rice Originated From a .. Bookstore?
Let's go forward a decade, and I was doing some restaurant research before an upcoming trip.  Tabelog's search has an unusual but useful feature where you can narrow down restaurants by food type.  First searched for popular types like ramen and sushi, then way down the list, I noticed a checkbox for the top-rated hashed beef in Tokyo.  Using their map feature, I found a highly rated search result near my hotel, Maruzen Cafe.  A few of the Japanese reviewers noted how Maruzen (a bookstore) was the originator of Hayashi Rice.  According to the story, the founder of Maruzen would prepare this dish whenever his friend visited.  The founder's name was Yuuteki Hayashi, and people would refer to the dish as 'Hayashi Rice' to order it until they put it on their menu.  Immediately, I dropped a pin on my trip map and counted down the days until my next trip.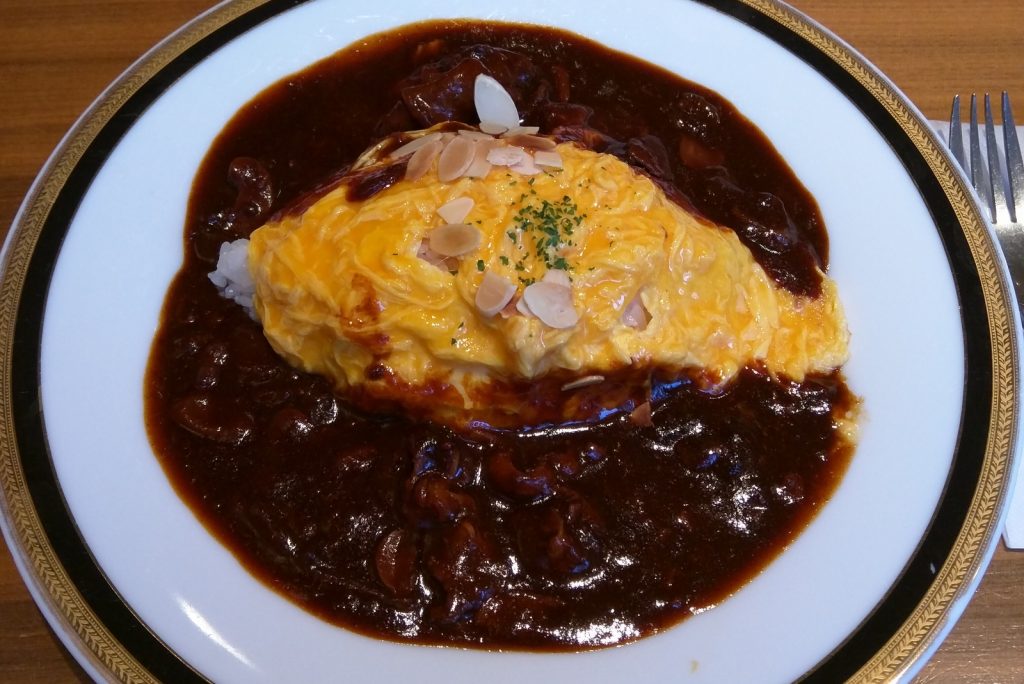 Omu-rice with Premium Hayashi Sauce
Maruzen Cafe is located on the third floor of the Maruzen bookstore in Nihonbashi. The cafe is modern with a vibe that hints at European.  We got to the table and placed our bags into convenient baskets they have next to the chairs.  The center of the menu showed Hayashi rice prominently, but for ¥200 more one could order the Omu-rice (omelet rice) with Hayashi sauce.  And for an additional ¥200 the Omu-rice with 'Premium' Hayashi sauce.  I'm usually pretty resistant to upsells, but going with an omelet in Japan is a no brainer, and I flew thousands of miles to get here so I may as well spend a couple of bucks for the premium version.
From the first bite, I could tell this was the best Hayashi rice I've ever had.  You're immediately hit with the deepest of rich beef flavor, savory and not bitter.  Soft chunks of beef and mushrooms mix really well with the egg and rice.  Some slivered almonds sprinkled on top added a nice texture to the dish.  I noisily scraped the bottom of the plate with my spoon as I emptied its contents and have made additional return trips to Maruzen since that fateful day.  I would highly recommend trying this dish from the originators as it's pretty hard to find this state-side.
Maruzen Cafe
2-Chome-3-10 Nihonbashi
Chuo, Tokyo, 103-0027
After doing further research for this article, there appear to be other restaurants with claims to the origin.  If I happen to run past any of the other places on my next trip up, I'll make sure to add it to this post.