You may have heard Momofuku's David Chang wax poetic about convenience store fried chicken in Japan and I'd have to wholeheartedly agree.  If you haven't tried fried chicken at a convenience store in Japan, you're seriously missing out.  In this post, I'll not only list my favorites, but I'll have some info about when to go, along with some tips on selecting a good branch.
7-Eleven
First, we will begin with the nana-chiki (ななチキ) that's available at 7-11.  I'd pick this as my least favorite chain for convenience store chicken, but it's still very good and I'd eat this over KFC, any day of the week.  The nana-chiki is a deep-fried boneless breaded chicken thigh, it's tasty but possibly one-note.  They however recently added a cheese-filled chicken breast to their lineup that I'm going to need to try on my next trip over.
Family Mart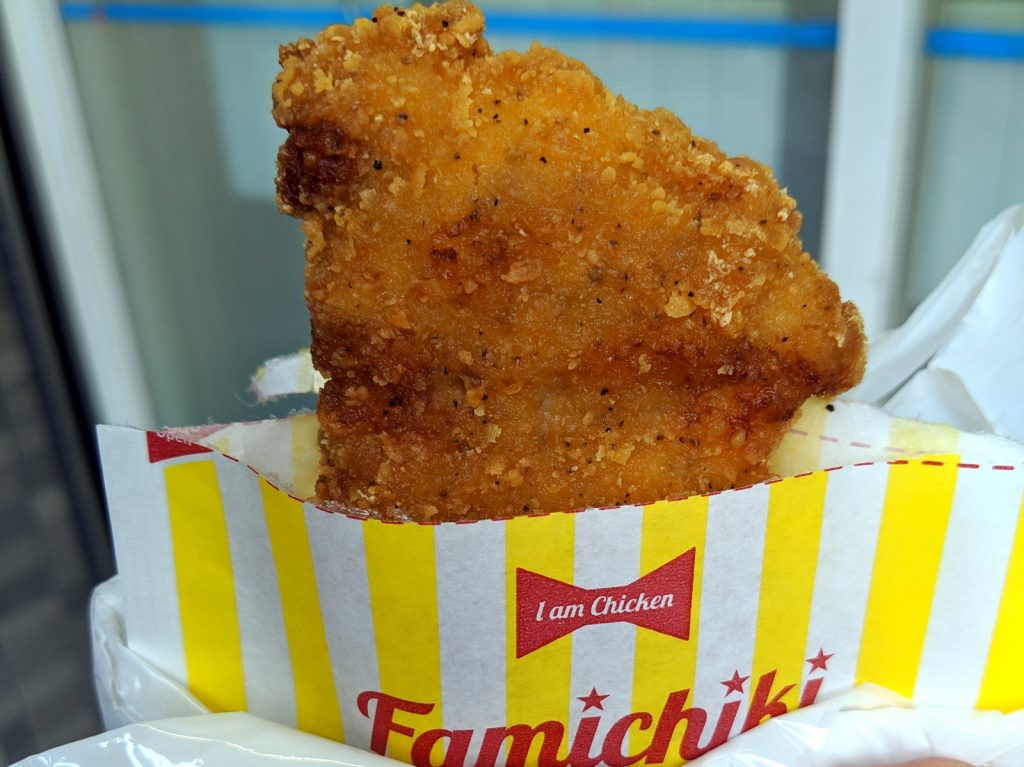 Next up is the fami-chiki (ファミチキ) from FamilyMart.  This is the same deboned breaded chicken thigh as the nana-chiki, but this one is better seasoned, tastier and much juicier.  A few Japanese posts I've read consider this the pinnacle of convenience store chicken but it may be too oily for my particular tastes.
Mini Stop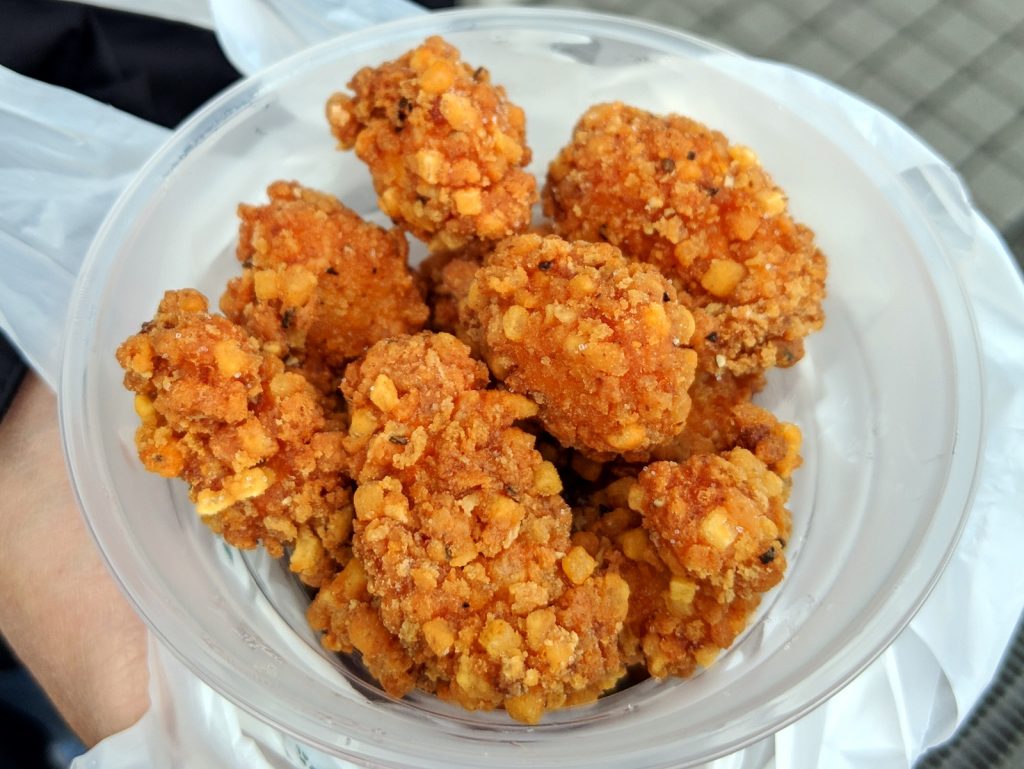 Now each of the convenience stores sells chicken nuggets, which for the most part are just okay at best.  Mini Stop, however, has changed the game with their crunky chicken (クランキーチキン).  These bite-sized pieces of chicken are covered with crunchy bits of potato.  It's the crunch of a tater tot combined with the savory and umami from the chicken.  Mini Stops aren't as common as the other chains, so pop in and give these a try if you happen to pass one.
Lawson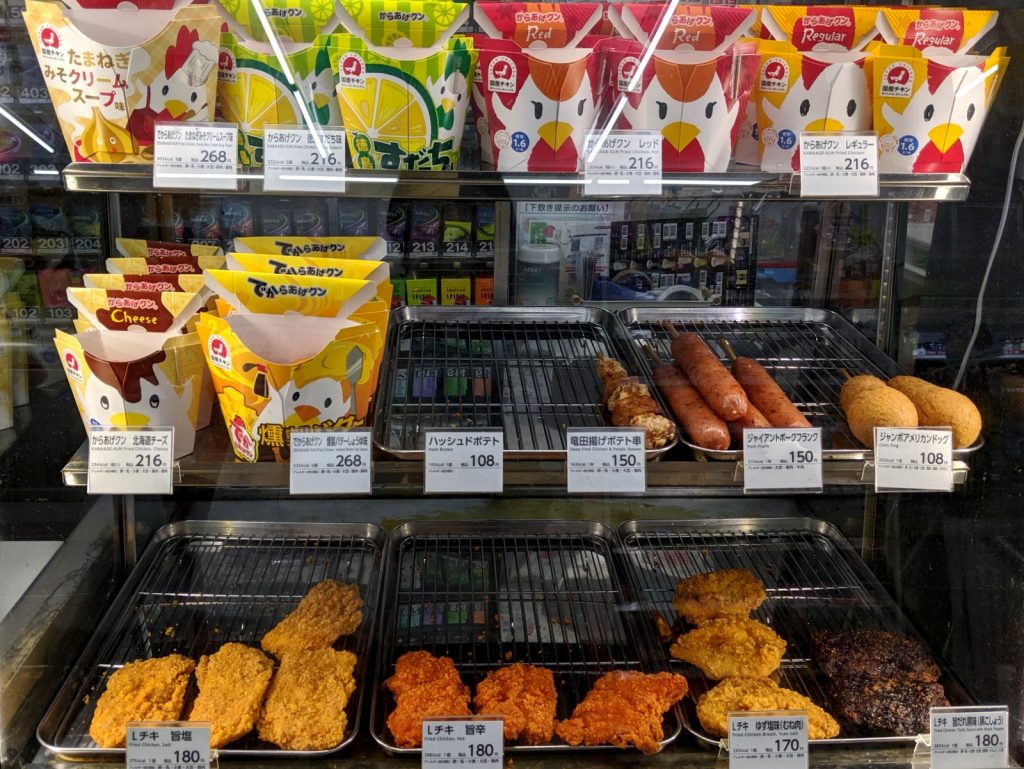 Last up is my personal favorite, the spicy L-chiki from Lawson (Lチキ 旨辛) which years ago they called L-chiki red.  All of the other chains have spicy variations but this one with the unnatural "Flamin Hot Cheeto" red color hits me in a spot, unlike the rest.  Same deboned deep-fried breaded chicken thigh, but with a nice level of spiciness. Perfectly juicy and flavorful, with a more layered depth of flavor than just salt and chicken.  Combine with a creamy tuna mayonnaise onigiri and you're all set.
When and Where to get your chicken
A great time to get your chicken is mid-morning, after the morning rush, or around lunchtime.  During the morning rush, there will be lines and customers in a major hurry on their way to work.  Going after this rush, you'll get fresh chicken and you can take your time browsing/ordering without getting in the way.  In the evenings, food turnover goes way down so chances are higher that you'll get a dried-out heat-lamp laden chicken.  You'll also want to go to a moderately sized vs the tiny oddly located branch for turnover reasons.  As a bonus, you will also more likely find a greater flavor variety in these larger stores.  I also like to keep away from the _really_ busy branches with long lines, especially in tourist districts, as it may be too busy for them to keep track of their product.
Good luck with your own chicken adventures.  Japan convenience stores are constantly updating their product lines so check out their website/social media before your next trip.  Also if you haven't been to one, additionally try an onigiri (rice ball), niku-man (meat-filled steamed bun), or perhaps something from their large premade sandwich selection.
Useful Links