So you've been to Hawaii before, or you're staying for longer than a small handful of days.  In part two of the Tourists' guide, we start the intermediate course and cover food topics for the slightly more experienced Hawaii traveler. If this _is_ your first rodeo, however, make sure to check out the first post about eating in Hawaii here: A Tourists' Guide to Eating in Hawaii pt. 1.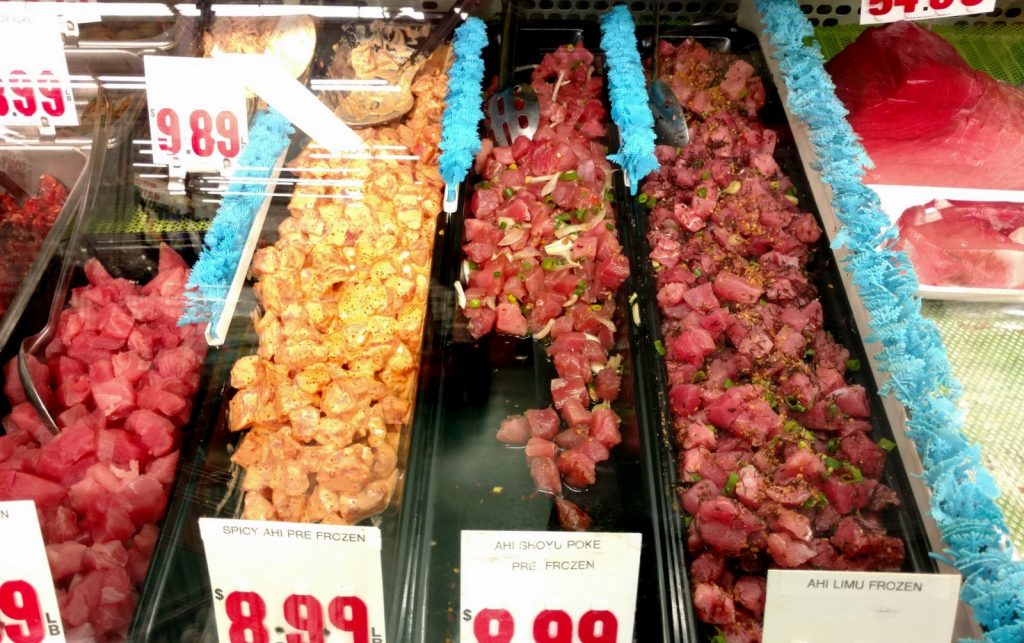 Where to Eat Poke in Hawaii
The first topic in part two is poke, the cubed fish dish that has recently become a food trend across many parts of the mainland.  Not going to get into the fad, but if you're in Hawaii, you may as well get some of the "good stuff".  Traditionally, locals who care about their poke will go to a place that sells a lot of fish like a fish market. This because they will most likely be using fresh fish of good quality.  Secondly, the place will either have a steady amount of customers or make poke in smaller batches because poke sitting in its sauces is slowly turning into ceviche; chewy is never a texture you want in your poke.  Poke is typically sold by the pound or as a "poke bowl" which is poke served over rice.  Make sure to try different styles (smallest quantity at most places is 1/4 lb) and more than one fish type as each have their own characteristics and may go better with a particular style.  I would recommend getting poke at Tamashiro Market in Kalihi, Tanioka's in Waipahu, Off the Hook Poke Market in Manoa, Poke Stop in Mililani, Nico's Fish Market by the piers, or perhaps at one of the many Tamura's locations.
Poke Glossary of Terms
Ahi — Yellowfin Tuna
Aku — Skipjack Tuna
Inamona — Kukui Nut
Kajiki — Marlin
Limu — Seaweed
Shoyu — Soy Sauce
 Tako — Octopus
Tombo Ahi — Albacore Tuna
Wasabi — Japanese Horseradish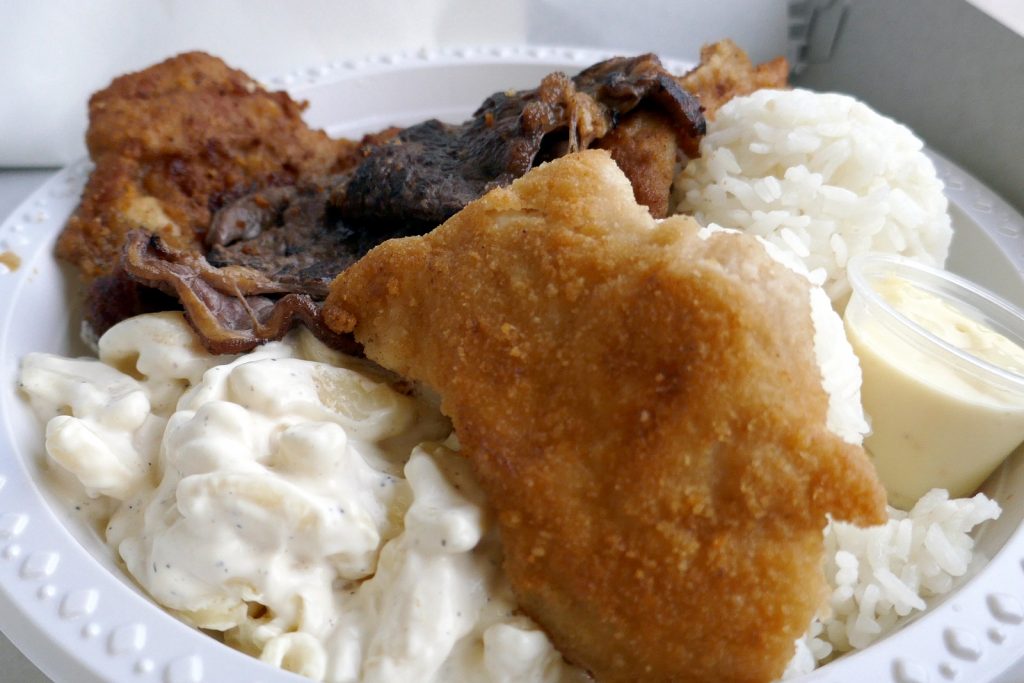 Best Hawaii Plate Lunch Spots
Next up is the food type that has traveled to the mainland at the turn of the century with the name "Hawaiian Barbecue" but what locals affectionately call a "plate lunch".  If you haven't run into a Hawaiian Barbecue place on the mainland, a plate lunch is basically two scoops of rice, a scoop of mac salad, and a portion (or two, in a 'mixed plate') of some kind of meat.  It's local comfort food often served in reasonably large portions so make sure you have an appetite before you go.  Typical choices include chicken katsu (panko-breaded deep-fried cutlet), loco moco (hamburger patty, with fried egg and gravy), beef stew, teriyaki beef, and oxtail soup.  I don't eat plate lunches that often, but some good choices include Rainbow Drive-In on Kapahulu, Okata Bento in Kaimuki, Masa's Cafeteria in Mapunapuna, or for a change of pace, check out Pioneer Saloon on Monsarrat which is a Japanese chef's take on Hawaii's plate lunch.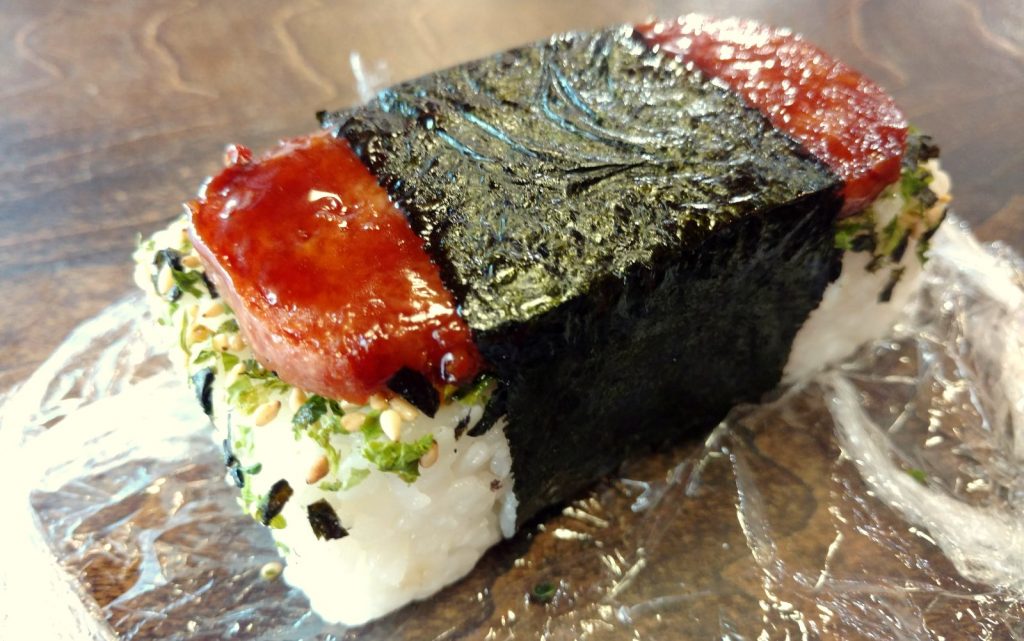 Why do They Love Spam in Hawaii?
The final topic is the canned meat with the pink hue that is as beloved in the islands as it is reviled everywhere else, spam.  It usually appears in the local diet sliced then pan-fried, placed on a bed of rice and wrapped in seaweed, this particular form is called a "spam musubi".  Otherwise, it usually replaces bacon or sausage alongside breakfast foods or in fried rice.  Tell-tale signs of a well-prepared spam musubi are a bit of a char on the spam, some furikake sprinkled on the rice that is not greasy to the touch, and everything tightly packed so that it doesn't fall apart when bit into.  You can find spam musubi all over the island, some popular choices could be a nearby 7-11 (or any convenience store), a football tailgate or potluck, or at any place that serves "plate lunch".
McDonald's in Hawaii?
There are still many Hawaii topics to cover but I'll bookend this with a bonus pick.  Even if you're not into fast food, check out a McDonald's in Hawaii as there are quite a few items here that you can't find anywhere else.  In particular, I would recommend the array of different deep-fried pies they have in rotation, like the haupia pie (coconut dessert), the taro pie (Hawaiian root vegetable), peach/mango pie, guava pie, pineapple pie, or even the standard apple pie (every other state sells their apple pies baked).  Other Hawaii-only picks, which aren't must-haves, but would make for an interesting story/social-media-post are the saimin (old-school ramen predecessor), Portuguese sausage (or spam) eggs and rice on the breakfast menu, the occasional appearance of the McTeri deluxe (teriyaki burger), and fruit punch as a drink choice.  If you have any questions or comments about the topics posted, feel free to ask them in the comments section below, also feel free to post your own suggestions for new Hawaii travelers if you have some good ones.
Author's PostScript:  This paragraph above about McDonalds Hawaii was so popular that it has been expanded into its own post.  Also, this guide now has a part 3.