It's been almost 20 years since the original Iron Chef series was televised on the Food Network.  Since then, trying the cuisine from each of those chefs has been on my bucket list.  I got my first taste at Chen Kenichi's restaurant in Yokohama, then quickly visited Masaharu Morimoto's restaurant (formerly at the Modern) in Waikiki.  Last year, Hiroyuki Sakai's La Rochelle in Omotesando was on my hit list and just last month, I went to finish my personal "Iron Chef Grand Slam" at Masahiko Kobe's Ristorante Massa located in Ebisu.  Allez Cuisine!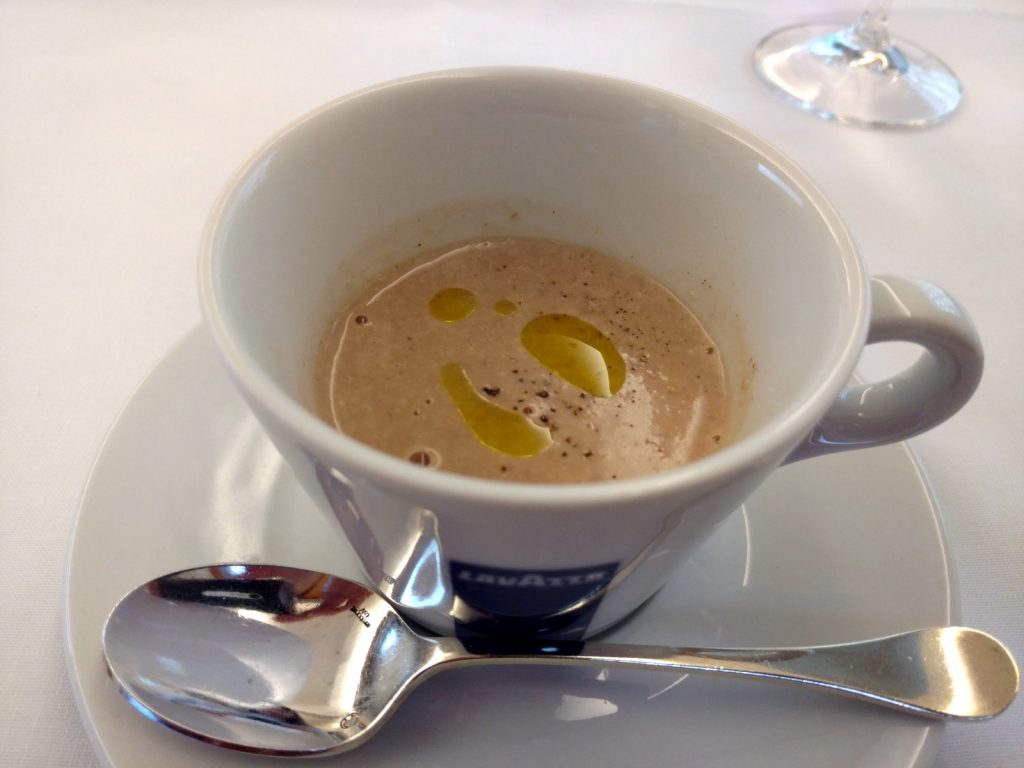 We arrived a bit before noon just as the restaurant opened for lunch.  There wasn't an English menu, but the server graciously translated the menu items into English for us.  We decided to go with a pair of four-course lunches that start at a very reasonably priced ¥2160 (~$19).  The meal started with some bread and a cup of seasonal chestnut soup.  It was light, nutty, creamy and flavorful.  A great start to the meal.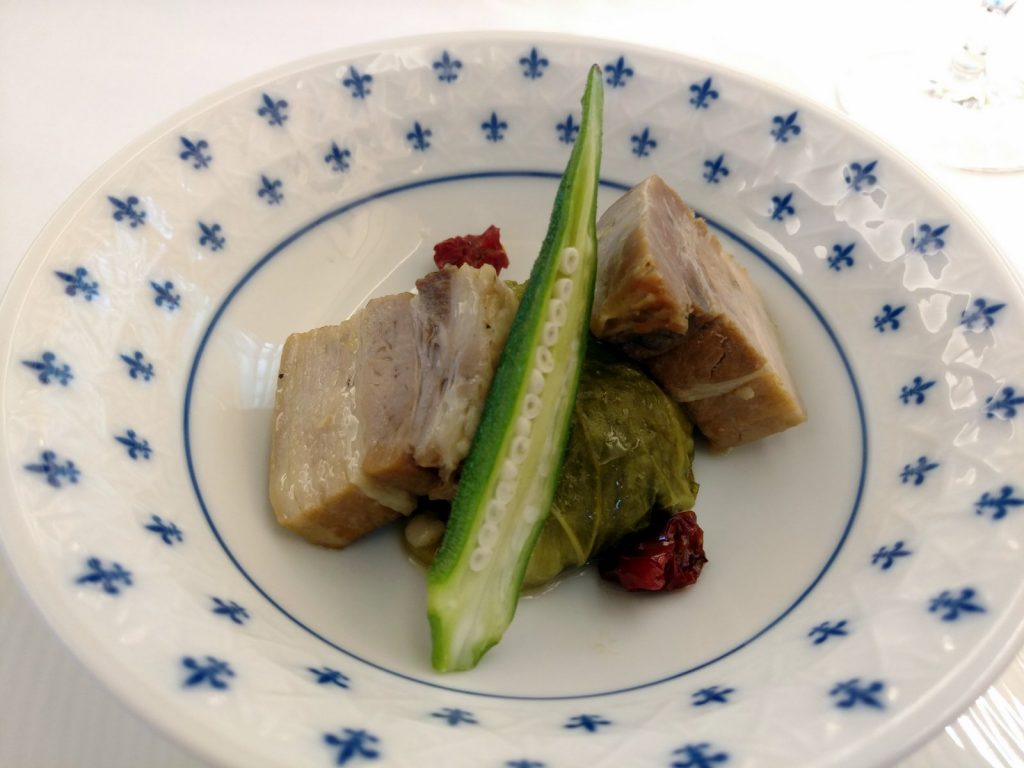 The appetizer arrived next which was a serving of herb-infused pork, with okra and steamed cabbage.  The server noted how the cabbage came from Kobe's hometown. (Although I may have heard this incorrectly)  The pork was flavorful and juicy, the cabbage moist and carried the flavor of the pork.  The okra also added a nice contrast in flavor and texture to the dish.  A second bread type arrived shortly following the appetizer.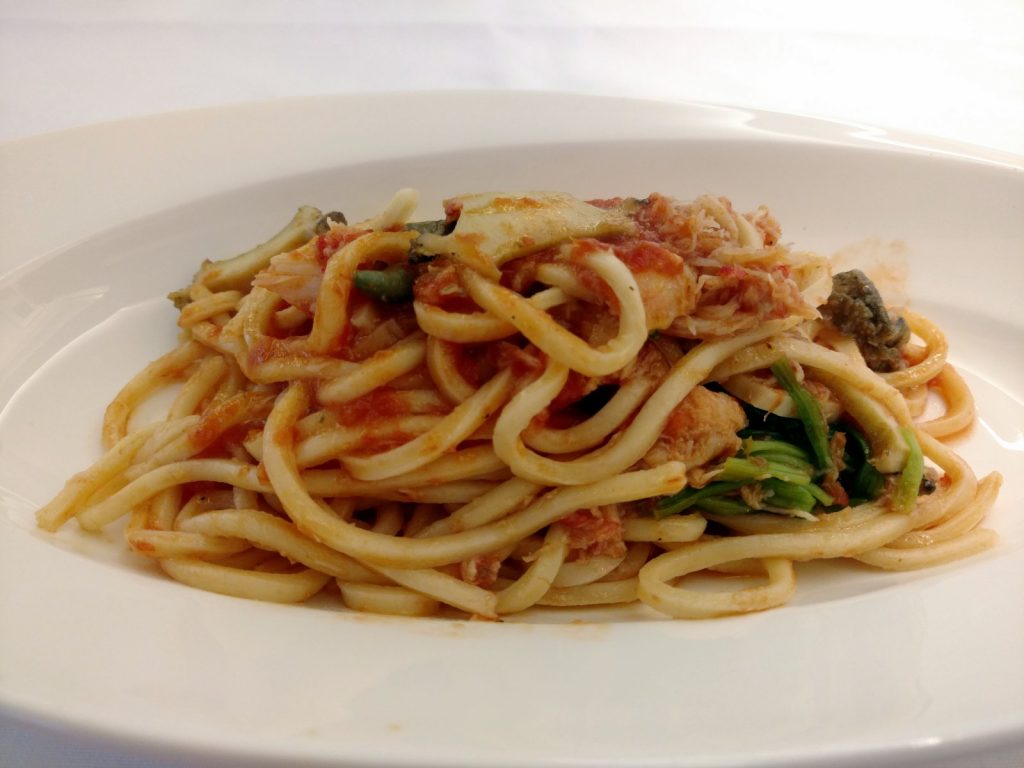 For a pasta choice, I selected the princess abalone and snow crab in tomato sauce and opted for the handmade pasta.  The pasta was delicious, with tomato and garlic flavors balancing well with the abalone and crab. The most memorable part for me, however, was the handmade pasta.  It was slightly thicker than your typical spaghetti and was perfectly cooked all the way through.  The thickness provided a wonderful toothsome quality to the center of the noodle.  It was unlike any other handmade pasta I've ever had in my lifetime.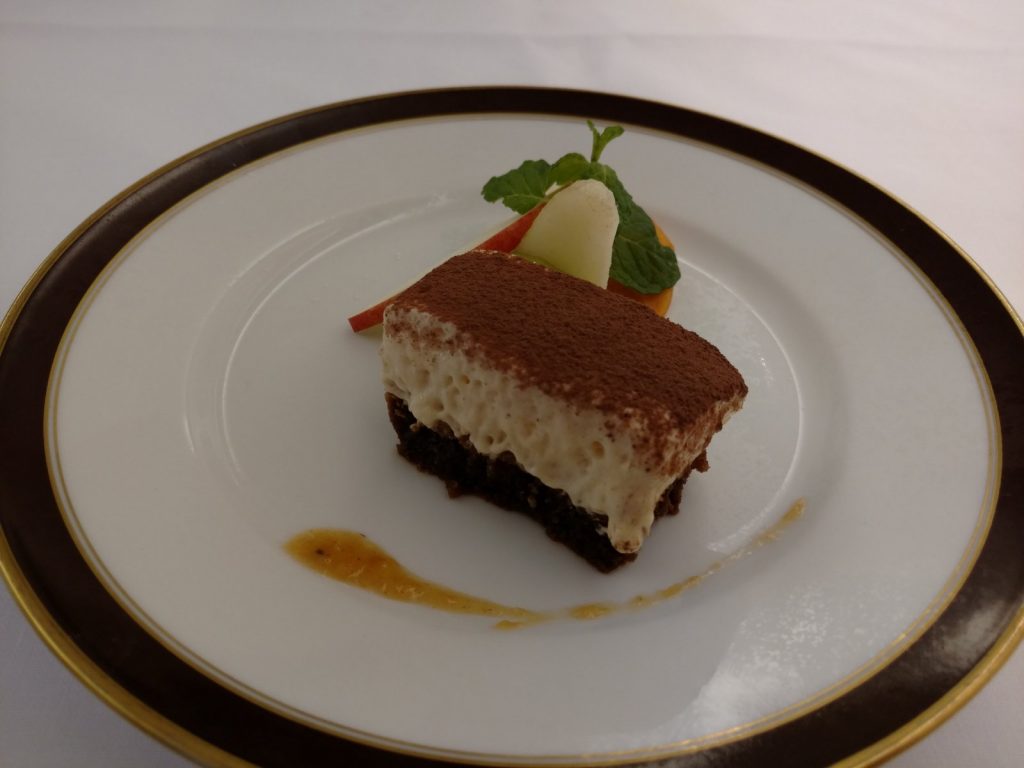 The meal ended with a light and delicious tiramisu, some seasonal fruits, followed by a cup of espresso.  Easily the best meal I've had on my Japan trip.  As we collected our things to leave, our waiter came by to greet us.  I gave him a small token of Hawaii omiyage as it came up that we were visiting from there.  We headed toward the main door, and the chef who prepared our meal appeared to be waiting to greet us outside.  As I walked past, looked up and it was Masahiko Kobe, himself.  I did a double take, thought about shaking his hand, but opted for a short polite bow instead as I thought a handshake might be weird at that moment.  Thinking back, I may have left awkwardly, but I honestly did not expect the Prince of Pasta to be cooking for us that day.
With bucket list item checked off and the four chef grand slam finally complete, the most obvious question to ask is "Who's cuisine reigns supreme?"  To this, I will say that all of the Japanese Iron chefs are worth a trip and you should definitely see for yourself the next time you're in Japan.  At the same time, I would also say that my experiences at La Rochelle (Sakai) and Ristorante Massa (Kobe) were two of the most memorable meals I've ever had.
Ristorante Massa
1 Chome-23-22 Ebisu, Shibuya, Tokyo 150-0013, Japan